It doesn't matter whether you're sampling, playing a real kit, or tapping beat patterns on a synth – drums are one of the most fundamental components when it comes to producing electronic music.
Of course melodies matter, as do the bass elements in your track. But, most seasoned producers will tell you that a good tune always starts with drums. This is why we've gathered a list of our top 10 free drum VSTs for spicing up your tunes which you can start using right now.
If you're looking for other free plugins outside of drum kits, be sure to check out our list of the Top 10 Free VSTS which covers everything from synths and bass to effects plugins.
Drumatic is a highly-acclaimed plugin for its 100% synthesized bank of sounds. It features 6 stereo outputs which can be assigned to any of the 7 sounds included; Snare, Clap, Toms, Hats, Bassdrum and Rimshot.
Drumatic also comes complete with graphical envelopes to allow for variety and flexibility. Because there are no real-sounding drum elements in this VST, it's better suited for electronic music producers rather than anyone looking for something more organic.
DrumMic'a by Sennheiser is a drum sample software which works with the free Kontact Player created by Native Instruments. It allows you to alternate between both Nuemann and Sennheiser microphones for making better adjustments to the sounds.
This plugin also comes with a built-in mixer and individual controls for compression, EQ, and adding effects like reverb, pan, and delay.
Beat Factory by Beatskillz is compatible with all operating systems. Each of the 10 kits included was created using top-shelf outboard gear including the famous MPC 2500 to make each sound punchy and gritty, making it a great addition to any hip-hop producers plugin collection.
There are 12 pads with individual faders, plus built-in reverb and ADSR envelope to give users the full ability to shape the sounds and drum samples how you want.
The MT Power DrumKit is packed with high-quality samples which simulate the sound of a real drum kit. Every individual sample has already been processed, meaning users will only need to make minor adjustments.
Included is a pre-programmed library of realistic grooves which can be dragged and dropped into your DAW or production software. All the levels in each component can be fully adjusted via the built-in mixer, which also allows full control over panning and compression.
AudioSpillage's MiniSpillage is another Mac-only free virtual plugin synthesizer which features 64-bit DSP processing, along with 3 fully-editable drum pads and some great effects like distortion and resonant filters.
In addition, there is a 6 oscillator hi-hat generator, plus flexible wood synthesized toms and natural-sounding timbres. Plus a bass drum! You can also use the "Warp" function to modulate each sound within your mix.
With its simple MPC-style interface, DrumPro has been created with electronic producers in mind, and features 20 professional kits styled on the iconic Roland TR-808 AND TR-909.
Each individual kit comes with 12 unique sounds assignable to 12 different controller pads. There is also the option to add a touch of reverb for a more organic and spacious sound.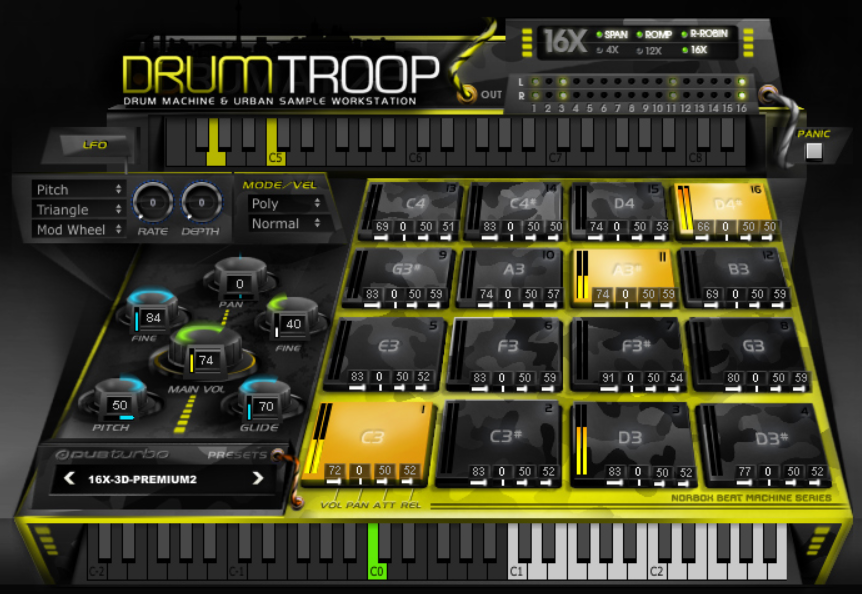 Another free MPC-style plugin is DrumTROOP by DubTurbo. It comes with 20 kits containing 16 individual pads. Every pad can be controlled for panning, volume monitoring, plus attack and release abilities. You can also adjust and fine-tune things like pitch and glide via another set of controls.
Even though the creators discontinued the brand the plugin is still available. It's incredibly fun to use and provides plenty of flexibility for working the sounds into your projects.
Complete with a built-in sequencer and browser, TheDrumSource by Witech is a clean and basic interface which features a variety of different samples.
The plugin sports separate output channels, resizable GUI, 24 unique patterns, pan, volume, pitch and length controls, step sequencer and more. It also supports most sample formats from 24-bit upwards.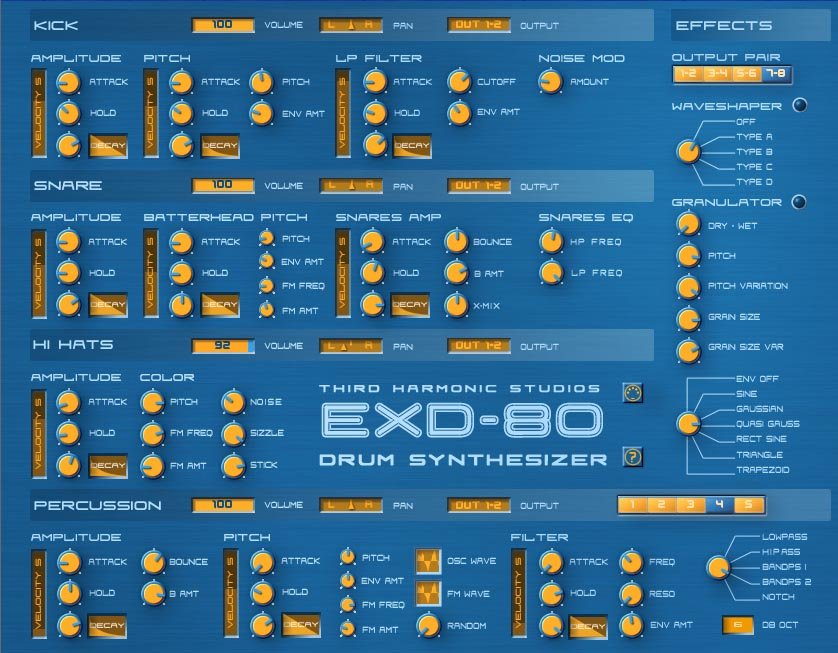 EXD-80 by Third Harmonic Studios is a virtual analogue drum synth featuring everything from vintage drum machines to fragmented glitch samples. There are no samples, just pure synthesized drum and percussion sounds to work with.
This VST is only available for Windows, but it truly is ideal for deep electronic genres such as Drum and Bass, Dubstep, Hip-Hop and tracks with more ambient flavors.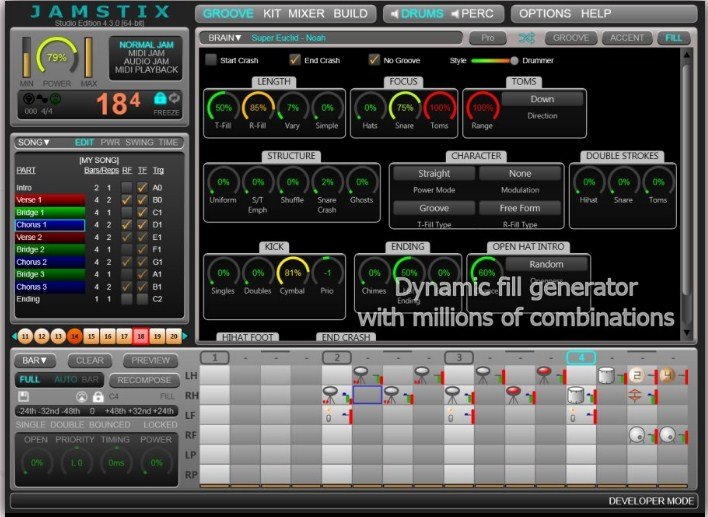 A free plugin which emulates the sound of a real human drum kit. Jamstix doesn't work with any MIDI patterns or grooves, instead you get a reenactment of a real drummers arms and their styles to produce realistic sounding performances.
If you're not one for programming drums, this may not be the best VSTS for you, however, if you upgrade to the full version of Jamstix, you get loads more top-notch sounds which allow you to get much more creative.
Final Thought
There are some awesome free plugins out there which allow you to get really creative, even with the simplicity of the interface and controls, however, if you're willing to spend a few bucks the full versions, you're of course going to get much more to work with and use at your disposal.