If you're a musician, you might be curious about VSTs—or you might be using them yourself already. Then again, some of you may be asking yourselves, "What's a VST?" For those not in the know, "VST" stands for "Virtual Studio Technology," a plugin that simulates real instruments in a DAW (digital audio workspace). (Popular DAWs include Audacity, FL Studio, and GarageBand.) These software programs have been helping musicians with their craft since 1996.
There are VSTs for nearly any instrument or equipment piece you can think of: drum kits, synthesizers, and even guitars. Some of these plugins cost money, while some are entirely free.
Specifically speaking, a guitar VST is a plugin you can use alongside or instead of a physical guitar. Some VSTs emulate guitars, while others emulate things like amps. In any case, they're designed to give users an optimal guitar experience.
Now, you might be asking yourself, "What's the best guitar VST?" Maybe you're thinking of something more specific, like, "What is the best electric guitar VST?"
With the Internet, there is no shortage of guitar VSTs available to you. Which ones are the best guitar VSTs, though? Well, ultimately, that'll come down to your personal preferences and computer capacities. For some help getting started, though, we've compiled a list of some of the best guitar VSTs we could find. They are:
AmpliTube 4
CLA Guitars
MusicLab RealGuitar 5
Native Instruments Strummed Acoustic
Electri6ity
Evolution Rock Standard
SONiVOX Bright Electric Guitar
SimulAnalog Guitar Suite
Emissary by Ignite Amps
Tube Amp Ultra 530
---
There's a lot to uncover with IK Multimedia's AmpliTube 4 VST, an amp emulator. Let's start with the room selection. With this plugin, you get to choose from six different room styles: Big Live Room, Booth, Garage, Venue, Studio A, and Studio B.
In those virtual rooms, you can set up two different mics wherever you want. You've got a wide array of mics to choose from, too: AmpliTube 4 has three to start with, and you can buy fifteen others as add-ons.
It doesn't stop at just customizing your mics, either. AmpliTube 4 lets you change up the speakers you use, and it comes with a variety of different amp emulators. All of these choices let you get precisely the sound you want. The best part? You can convert electric guitar sounds to acoustic.
This VST isn't the cheapest on the market, but if you're willing and able to shell out some money, it'll be well worth your while.
Waves developed the CLA Guitars VST in collaboration with Grammy-award-winner Chris Lord-Alge. It's got a simplistic interface, and it's as easy to use as it looks. Virtual faders let you control the bass, treble, compression, reverb, delay, and pitch of your sounds. There's also a switch to control re-amplification and a knob to control the modes.
Users of the CLA Guitars plugin rave about the sound quality—you don't need a ton of equipment to get a realistic, precise guitar sound. It's amenable to all sorts of genres, from pop-punk to blues. Not only that, but not having to fiddle around with lots of equipment means you get your desired sound quicker.
However, a downside is that some users report CLA Guitars using up a significant amount of their CPU (central processing unit) capacity. If that's a concern for you, try another one of these VSTs.
If you're passionate about guitar sounds, then you know it's not enough for a software program to generate a chord. It has to sound like it's coming from a real guitar. MusicLab's RealGuitar 5 gives you that authentic sound. This guitar VST allows for randomized pitch, sound, velocity, and time for a more human effect.
RealGuitar 5 has two guitar types (classic and steel string), each with various sounds and effects. You can customize chords easily, and you can even store your customizations in chord banks. There's also the pattern library, which has over a thousand rhythm patterns for all sorts of music genres. That's not even getting into the plethora of sounds, effects, and modes that come with this guitar VST plugin.
Like AmpliTube 4, RealGuitar 5 isn't cheap. It is, however, a VST to keep in mind if you have the budget for it.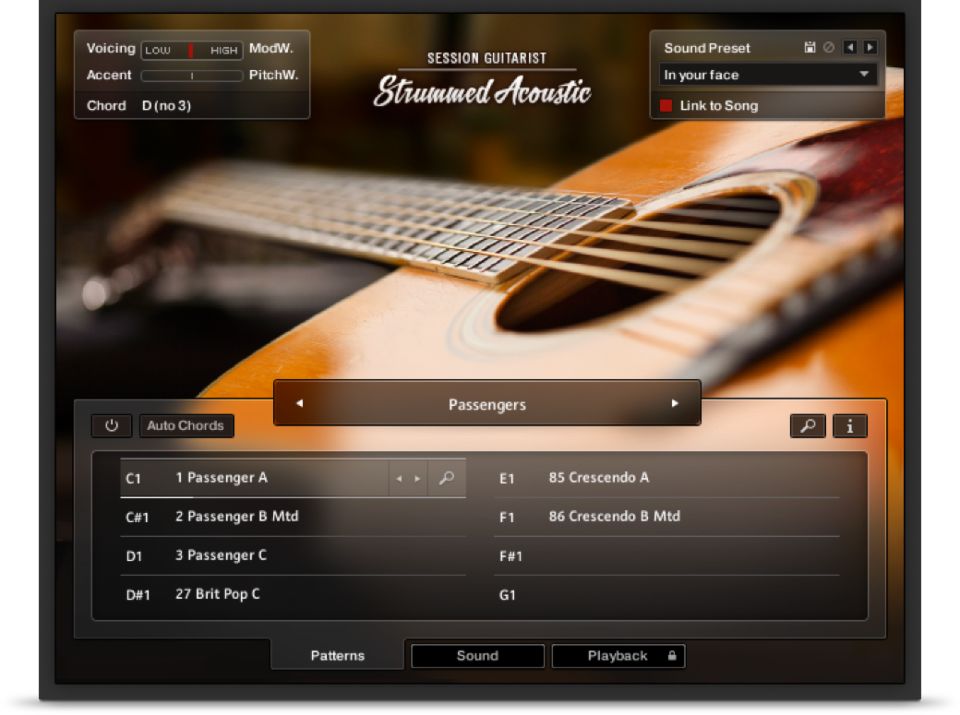 Ever wanted to add an acoustic guitar to an EDM track? This guitar VST from Native Instruments is perfect for that. The Strummed Acoustic plugin from the Session Guitarist lineup emulates a steel-stringed instrument's sound without getting out a physical guitar. (If you want to incorporate physical instruments, though, you can dub them in seamlessly.)
If you want stereo tracks for your guitar section, this VST has you covered. As with MusicLab's RealGuitar 5, Native Instruments' Strummed Acoustic VST also has a library of patterns suited for an array of genres. 
The layout of the software is easy to navigate and understand. There's no wide variety of instruments in this one—indeed, the name suggests as much. That said, if all you need (or all you want) is one dependable guitar VST, then Native Instruments' Strummed Acoustic guitar VST plugin could be for you!
Do you want a fantastic electric guitar VST? Electri6ity by Vir2 Instruments has you covered. This plugin samples eight different guitars, including the Les Paul and the Rickenbacker. The breadth of the samples (192000 in total) lets you perform in any style, from nu metal to jazz.
The library is simple to navigate and has distinct sections for amplified and DI versions of each guitar. Meanwhile, the writing and performing interface is designed like a fretboard, and the playback is incredibly naturalistic.
This one's the priciest VST on this list. You're also going to need a fair bit of storage space for it, and don't expect it to be a quick install. With money and time to spend, though, you'll undoubtedly find that Electri6ity is one of the best electric guitar VSTs on the market.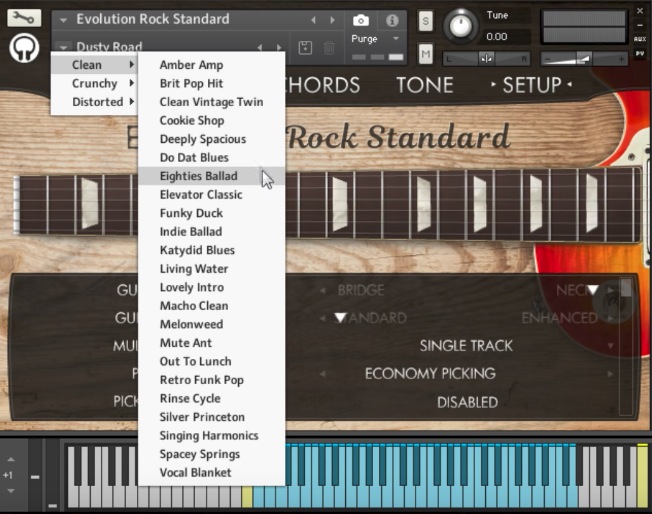 Want a guitar VST plugin composers have used in video game soundtracks? Try Evolution Rock Standard by Orange Tree Samples. Having been used in games like Age of Empires IV and The Witcher 3, Evolution Rock Standard has proven itself to be up to industry standards. This guitar VST isn't some corny 8-bit instrument, either: it samples a Les Paul.
Something that makes guitar VST versatile is its multitrack capacities: you can have up to four tracks together. There are numerous standard and MIDI articulations available. The interface even allows you to adjust the position of your pick.
Evolution Rock Standard centers itself around blues and rock music. If that's entirely not your cup of tea, you may want to give this plugin a skip. If you're open to experimenting, though (or if you center your playing around blues or rock), it may be worth giving the VST a try.
Do you want a clean sound without having to spend a lot of money? The SONiVOX Bright Electric Guitar may be the plugin for you. It's not freeware, but it's cheaper than a multitude of other guitar VST plugins. SONiVOX even offers discounts when you upgrade the software.
But what about the VST itself? It's quality! It's got the minor, major, and dominant triads and the major and minor bar chords. There are various ways you can strum them, too, to achieve the most precise sound you can. The developers at SONiVOX are committed to providing an authentic sound, as well: they used real Fender equipment for the samples.
The Bright Electric Guitar plugin isn't the most comprehensive VST around; it does not have the sheer range of Electri6ity, for example. However, Bright Electric Guitar is user-friendly and decently accessible. This VST is a wise choice if you're considering moving toward the world of paid VSTs.
Are you looking for freeware? The SimulAnalog Guitar Suite is something to check out. While it has, by its own admission, "a very rough user interface," users rave about the VST's quality. 
The software sets out to emulate seven amps and stompboxes, including ones from Fender and Oberheim. The guitar samples themselves come from a 1990 Steinberger. There are nine of these samples, oriented around blues, jazz, and heavy metal music. Like the SONiVOX Bright Electric Guitar, there's no diverse array of samples, but that's how it tends to be with freeware.
Sadly, SimulAnalog only offers this plugin for PC. For PC users, though, you will find the installation process to be smooth and straightforward. Frankly, if you have a device that can run the SimulAnalog Guitar Suite, there's no loss in trying it out!
Ignite Amps doesn't play around when it comes to VST plugin development. If you have a real-world amp that you want them to emulate, they will do that for you. Enter the Emissary VST: a VST based on one such project. Emissary is a metal-oriented amp plugin, which you can use during live performances. 
This plugin comes with two audio channels: the clean, made for clean notes and mild overdrives, and the lead, for wholly distorting the sounds you make. It can process mono and stereo tracks. You can even automate the controls as you see fit. The best part? It's completely free.
The (potential) downside? There aren't a lot of special effects with this guitar VST; you'll need another plugin for anything super fancy. With that in mind, though, there's still plenty this plugin can do for you and your sound. Just plug in and jam out.
Are you looking for an amp emulator that isn't bogged down in presets? Mercuriall's Tube Amp Ultra 530 is for you. This plugin is for people who know exactly what they want to do and how to do it.
Tube Amp Ultra 530 has four channels to work with: Soft Lead, Heavy Lead, Crunch, and Clean. There are four equalization bands for the former two channels and three equalization bands for the latter two. Additionally, there are four different cabinet sections.
You'll want to skip this one if you're a newbie to VST or amps; the interface can be problematic to navigate for some people, among other things. For the asking price, though (with a discount available for people upgrading their software), you'll find the Tube Amp Ultra 530 might be a worthwhile investment.
Final Thoughts
Overall, these ten guitar VSTs are among the best. Some of them are best suited for experienced users, while others are great for beginners, but they're all quality plugins. If you want a VST to take the place of or supplement your current amp setup, we've got that up there for you. Likewise, if you wish to use a VST instead of or alongside a physical guitar, we've got ones that are useful for that.
Now, there's no doubt that you'll want to research some of these products further. That's always a great idea. 
Something you might notice when you look up a given plugin is a search suggestion for "[guitar VST plugin] crack." A "cracked" version of a paid software is a version that you can pirate easily. Pirating anything is typically illegal, and there's a virus risk that doesn't exist when purchasing software directly from official distributors. If you don't want to break the law, or if you value the integrity of your computer, stay away from cracks.
Don't be afraid of freeware, though! Freeware, when authorized by the developers and distributors of the software, is as safe and legal as paid software. Some developers—for example, SimulAnalog—prefer to keep their software free. They don't want their software to be financially successful; they want it to be accessible.
(That's not to say developers who sell their products don't support accessibility, though! It merely means their vision of accessibility differs from freeware distributors.)
In conclusion: surf around, download things, and have fun making your music!