There's been some truly excellent blockbusters that illustrate the early days of iconic musicians and composers over the years. From Eminem's trailer slum days in 8 mile, Johnny Cash's rise to fame in Walk the Line to the biopic mental struggles of Brian Wilson from the Beach Boys. Each movie portrays the story behind these real life characters and the challenges they faced along the way to make it big.
And for most it wasn't easy! The rock and roll lifestyle of cash, drugs, sex and reckless behavior can easily take its toll on anyone lucky enough to live like that. But, the end result for many of these legends has resulted in a lifetime of substance and alcohol abuse, being pushed to the brink of insanity, or worse – killed them off altogether.
Doom and gloom aside, when you look at the stories of these stars from the beginning, it's insightful and warming to see how they evolved to where they are, and the rollercoaster of things they had to endure to get there.
There doesn't seem to be as many well-known movies about electronic music icons as there are about rock and roll, country or blues legends – but even these guys tend to have an equally compelling background behind their music careers. That's why we decided to put together our list of the best and most inspiring DJ and club culture movies that we think are well worth a watch. 
Berlin Calling (2008) – IMDb
Set a few years after the fall of the Wall, Berlin Calling is a journey through Germany's electronic music scene starring a cocaine-charged Techno DJ called Ickarus (Paul Kalkbrenner) as the centre stooge. The plot is set around his efforts to release his new studio album with one of Berlin's most prestigious labels. 
After a full-on night of snorting and popping a few PMA-based ecstasy pills, Mr. Ickarus finds he's been flying a bit too close to the heat when he ends up in a naked, drug-induced psychosis that temporarily puts him in the nuthouse. This causes some setbacks to the release of his masterpiece, and he ends up taking all of his audio gear to the institution in a bid to get it finished. 
We won't spoil the rest but there's plenty of unnerving moments in this movie which some of us could probably relate to. A very inspiring journey from start to finish.
It's All Gone Pete Tong (2004) – IMDb
Most seasoned DJs will tell you that one of their worst fears besides performing a train wreck set in front of a crowd is the thought of getting Tinnitus or something similar. Its All Gone Pete Tong is a mockumentary based on an arrogant Ibiza superstar called Frankie Wilde, who happens to end up with both. 
He's held in high regard by his wife, drug dealers, friends and clubbers alike in the lead up to his mid-life musical crisis. However, when the tragedy hits, Frankie hits rock bottom. After a cringe-worthy live performance that goes completely sideways, he soon falls into deep depression and despair over how he will be able to carry out the rest of his residency for the upcoming party season. 
The real question is: will he jack it in for good, or find a way to adapt and continue living the DJ dream?  
Straight Outta Compton (2015) – IMDb
Based in a racially-skewed period of the 80s in a small town in California, Dr. Dre and Ice Cube are 2 of the stars depicted in this raw story about the notorious rap group N.W.A. It delves into the epoch of 5 aspiring musicians with a collective ambition to start a record label. 
Despite their immediate success in the beginning, they run into much federal hardship while recording their albums. This causes tension between the group, and they later break apart. Dre goes on to found his own label and lives out the rest of his days as a full-time producer and turntablist, while the other members try to carve out their own musical destinies. 
After Eazy-E, the rapper of the group approaches his former bandmates with the prospect of a reunion a few years later, it seems N.W.A might make the highly anticipated comeback everyone was hoping for… 
These men made a real life revolution with their music. And this movie tells it all.
Human Traffic (1999) – IMDb
Another British cult classic dedicated to the early 90s rave scene. Human Traffic essentially tells the story behind a group of party-hungry friends and their pursuit to get completely trashed. The movie examines the relationships between these people and how their dynamics and emotions change throughout; love, jealousy, resentment, empathy, etc. One thing they can all agree on is the underlying need to get messed up and dance till they drop.
The film features a hilarious baby-faced Danny Dyer, and also one of the most iconic scenes that will forever remain in the hearts of drum and bass lovers. Aphrodite's 'Stalker' became a real life hit when the group's DJ (Koop) plays it to a crowd of customers, and the whole store starts brocking out.
If you've ever heard anyone in music (particularly DnB) joke around with "got any jungle in guy?" you'll now know what it's all about. 
We Are Your Friends (2015) – IMDb
We're sorry to say we didn't actually get around to watching this movie. From what we can gather from the trailer, the story focuses on a young aspiring Cole Carter (Zac Efron) along with his 2 friends and their attempts to become famous millionaire DJs. 
After he gets recognized by a big name when playing a party, he's invited to collaborate with the artist and work on a one-hit wonder that will scorch the world's dancefloors. But, after meeting the guy's girlfriend and falling for her completely, things start to get a little complicated. 
Will he get his heart broken and lose his chance to live the superstar lifestyle? Or get the cheesy happy ending that seems imminent? You'll probably have to tell us what happens with this one! 
Weekender (2011) – IMDb
We actually quite enjoyed this, but it received pretty terrible reviews from critics. But what do they know eh?
Weekender is another movie set in the 90s rave scene. It draws attention to the background behind 2 young men from Manchester, and how they went from organizing small warehouse parties in the pits of London to becoming wealthy head honchos of a rave empire across Europe. 
As you can probably imagine, they get hooked on everything from coke, acid, vaginas and money, and along the way experience run-ins with the law, trouble with gangs, rival promoters and everything in between. 
If you like Human Traffic and are an overall fan of typical wreck-head rave movies like we are, we're sure you'll enjoy this one! 
High Fidelity (2000) – IMDb
One of John Cusack's and Jack Black's finest collaborations on a movie about love, heartache and music. High Fidelity features the two of them working together in a record store with another degenerate, and their feeble attempts to sell records to musically illiterate pantomaths. 
But for Rob Gordon (Cusack), the story is more of a deep reflection on his past failed relationships, and his continuous quest to find the perfect new one. 
Rob is a former nightclub DJ, but decided to trade his old life of a promising music career for the store and a means of settling down. Of course, when he breaks up with his ex Laura, he feels like his world has descended into chaos. Will he finally be able to get his priorities straight and relationships in order? 
There's some hilariously awkward scenes throughout this rom com classic; definitely one for the top list.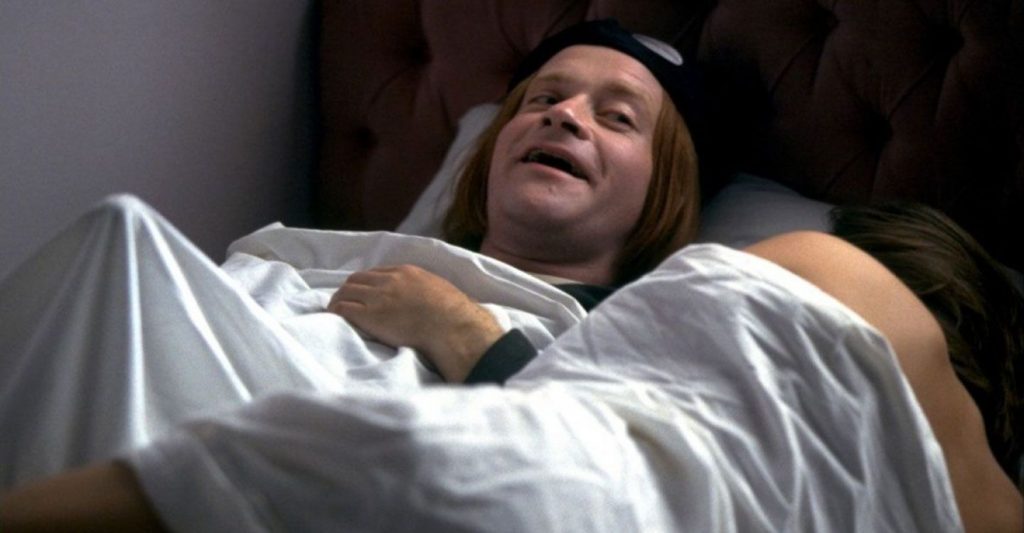 Kevin & Perry Go Large (2000) – IMDb
A British comedy based on 2 virgin wannabe DJs who set off on a vacation to Ibiza. Like a holiday from hell, they face everything from swallowing shit, getting puked on and being treated to an absolute eyesore from their chaperone parents. 
But none of this deters their hopes of meeting a pair of beautiful women, and having their one-off record picked up by one of the island's most famous clubs. And it seems there's a guy that can certainly help them out, but at some humiliating costs. 
Let's just say they don't quite get the claim to fame they expected, but it's hilarious watching what they're prepared to do for it, nonetheless. A timeless piece of comedy gold.  
Juice (1992) – IMDb
This one stars the legendary Tupac Shakur himself. Juice tells the tale of 4 childhood friends who spend their days rebelling and loitering around Harlem, New York. The boys skip school to steal records from music stores, play arcade games and hang out at one of the group's apartments.
Later, one of the friends, Bishop a.k.a 2Pac decides that they should be frying bigger fish, and tries to turn them all to a life of crime. The turntablist of the group is reluctant to follow through with their new direction. Instead, he focuses his attention on an upcoming DJ competition he is due to take part in. 
Things turn sour very quickly when Bishop shoots a nightclub owner in the head and develops a real taste for blood. Will his friends manage to pull him back to reality? Or will he continue to stay off the rails and cause the crew unthinkable trouble? 
Eden (2014) – IMDb
A French film directed by siblings Mia and Sven Hansen-Love. Eden is based on true events and teleports us to the late 90s underground club era in Paris. It gives us the backstory behind 2 aspiring young men (Paul and Stan) who almost became legendary electronic music duo Daft Punk. 
The movie shows us how they break into the scene with their impressive Garage Disco mashups in the beginning. They fall in love, experience warm connections with friends, and all seems well. But after a few years of living a lifestyle governed by partying, coupled with excessive drug use – their sound has got just as stale as they have. 
How will they readjust their sound to fit the new age times? There's only one way to find out! 
Daft Punk do make an appearance in this film in a funny and slightly unorthodox way… Be sure to look out for them! 😉
Conclusion
That's all folks! We're huge fans of some of these and we're sure you'll appreciate lots of moments as well. It's very nice that many of them touch on the fact that it's still possible to make something of yourself as an artist these days. Albeit, you clearly still have to put the work in!
On a final note, we know most of these stories are centered around getting absolutely trashed. They might not all be to everyone's taste, but if you're a DJ – this is the lifestyle and the kind of people you're going to be playing for. Not to mention making friends and contacts with. 
Maybe just don't pick the ones who carry a gun or try to steal your girl like some of these guys…
Happy binge watching!