While you might not even see yourself as a guitar player, as a musician, having an acoustic guitar at your disposal can be one of the best and most creative ways of getting your ideas down when you're feeling inspired.
You can easily spend upwards of 1000 dollars on a good acoustic guitar built from exotic woods with amazing tones, but there are also plenty of models that sound equally as nice and play just as well for less than $750.
What To Look for When Selecting an Acoustic
If you're a beginner looking to purchase your first acoustic guitar, you're probably a bit lost in terms of what to look for and what would be the most suitable model for you. So, let's talk you through a few things to consider when you're thinking about what to buy: 
The overall size of the guitar, the width of the next, and the shape of the body are all things you'll need to think about when selecting your first acoustic. Ideally, you should try it out in a store beforehand if you can, but if not, it's worth looking at the dimensions and specifications before you buy so you can gauge an idea of how long and wide it will be.
 If your guitar feels uncomfortable to hold or play, it won't stay in tune for long and probably won't sound too good. Even if a particular model looks super cool or is made of outstanding material, if it's not comfortable to play, a pleasing aesthetic is not going to save you. Always go by how it feels rather than how it looks, and if you don't have the opportunity to try it out in person—always read up on what other customers are saying.
We've dug out the best guitars, which are under $750, but don't feel like you have to spend that much on a guitar. There are many great options for less than $500 out there (some of which we've included in this list), and some are just as good, if not better than the real high-end models. While it may be tempting to play for a top-branded acoustic, you don't need to make such a big investment if it's your first guitar.
Now you know what to look for, let's take a look at a few great acoustic and electro-acoustic guitar options that are ideal for both beginners and professionals on a budget. 
The Best Guitars for Under $750
GUILD WESTERLY COLLECTION 240 SERIES
Guild is a legend when it comes to building guitars. The American brand has sat up there with top names like Gibson and Martin for over a century. Its award-winning Westerly Collection is one of the "most played" guitar ranges in the world, and they all certainly proceed their reputation. 
The M20 comes with a bone nut and compensated bone saddle, plus a solid top made from Sitka spruce. The pickup is a killer-sounding Fishman, and Guild's signature "arched back" design gives users a unique extra projection. The arched back also reduces the weight of this model, which makes it noticeably comfier when playing. 
Summary: The pickup is a killer-sounding Fishman, and Guild's signature "arched back" design gives users a unique extra projection
Why We Like it: Guild's Westerly Collection of guitars provides a comfortable, quality-sounding performance instrument that keeps its familiarity and trademark look of this high-acclaimed American guitar maker.
Breedlove's latest Pursuit range puts a truly modern twist on a typical acoustic guitar and revolutionizes the sounds and traditions of "modern-day" playing. This particular model comes with a built-in USB port for recording in music software and is built from solid cedar wood for the top with mahogany on the back and sides. It's based on Breedlove's "concert" shape design, which is similar to the grand concert designs of makers like Taylor. Whether you're strumming or picking, the concert shape on this guitar offers complete versatility. 
Summary: L.R Baggs is one of the most established, premium producers of pickups and preamps, and you'll also be pleased to know that Breedlove has incorporated a genuine L.R. Bagg's pickup/preamp in this guitar, further improving the quality.
Why We Like it: If you're looking for a top-notch instrument that plays exceptionally well and breaks the traditions of acoustic guitar designs, Breedlove's Pursuit is a fantastic option that will serve you for many years to come.

The AG60 is an acoustic-electric guitar with dimensions similar to the dreadnought, with a narrower waist that helps define and pronounce the treble. It sports a modern grand auditorium design shape, which gives you a lovely note definition and an even greater projection giving you great projection when strumming or when fingerpicking on single-note patterns. It's also constructed of mahogany at the back and sides with a solid spruce top.
Furthermore, the components in the AG60 are all "natural" when it comes to the other parts, which means there are no plastic inlays or binding. This all contributes to its quality and beautiful sound while giving it an overall resonant tone
Summary: Alvarez guitars are renowned for their high quality and excellent performance, which makes them ideal for working players. They're also priced at a figure that most musicians can easily afford.
Why We Like it: The AG60 has a wonderful build and sound, and like the Pursuit, the AG60 comes with L.R. Bagg's Element pickup/preamp system. The company also designed the built-in EQ for the body. Take a look at this guitar if you're looking for an instrument that sounds way better than it actually costs.
Fender is typically known for producing electric guitars, however, the company also has a wide range of great-sounding, affordable acoustic/electric guitars as well. The Newporter Player is one of these hybrid models that should appeal to players and musicians who want something flashy-looking, but that does not compromise when it comes to sound quality.
What's even more striking about the Newporter is its unique shape. It's like a cross between a grand auditorium and a dreadnought, with a little extra uniqueness to it. Pair this with the Strat-based neck, and you're left with an acoustic that not only looks good but sounds fantastic. The Newporter Player also features a built-in Fishman tuner and preamp, so you'll easily be able to amplify the sound at your next gig.
Summary: Even though the Newporter sports the "gold standard" mahogany back and sides with spruce top, this one also comes in a long range of traditional Fender-style finishes, allowing the user's personality to shine through.
Why We Like it: For those who want a unique-looking and sounding guitar, the Newporter is a great option and a nice alternative to the "classic" style of instruments currently on the market. It provides everything a working musician could ever need in an acoustic, especially when it comes to tones.
Japan is home to some of the world's best guitar makers, and the GN71CE is a prime example of this. This model features a scaled-down jumbo version of Takamine's NEX body, meaning you get a deep response from the bass and a big projection without the bulkiness of a classic jumbo guitar. The walnut sides and back, along with the solid Sitka spruce top, give you a guitar that not only gives a powerful performance when strummed but also responds to subtle nuances. 
To make it more comfortable in your hand while playing, the GN71CE also features Takamine's one-of-a-kind "asymmetrical" C-shaped design for the neck. The bridge design is also compensated for with a split, allowing for improved notation on both the high B and high E strings, only with a more accurate angle compared to many acoustic designs.
Summary: The GN71CE is one of the most affordable entries into the realm of Takamine guitars, with a projection and bass response that does not disappoint in any way.
Why We Like it: With its built-in EQ tuner, onboard preamp, and sleek design, the GN1CE can only be classed as an affordable electric-guitar with all the features that any gigging guitarist or musician could ever need. Plus, it plays and sounds just great.
Fender's Paramount Series all feature mahogany tops that have a grain texture to make them look and feel vintage. The thin 'open-pore' satin finish gives them an unhindered and organic look that really makes them stand out as a quality acoustic. 
The PM-3 in particular, sets a new standard for the price range, and it is a textbook example of an all-mahogany dreadnought that features tons of character yet feels notably livelier than many other models we've encountered. It's also relatively lightweight despite the solid build that gives it an airer tonality without compromising its muscular projection. That signature mahogany mid voice acts in abundance with a defined, thumpy low-end instead of the "boom" many are accustomed to with mahogany.
Summary: Fender's Paramount Series all feature mahogany tops that have a grain texture to make them look and feel vintage. The thin 'open-pore' satin finish gives them an unhindered and organic look that really makes them stand out as a quality acoustic.
Why We Like it: The PM-3 maintains notes that shine and pleases when it comes to the upper mids, making it perfect for a rounded bluegrass style of playing with a pick. If you're a flatpickers looking for a woodier tonality as opposed to a steely chime, then look no further than Fender's PM-3.
EPIPHONE MASTERBILT HUMMINGBIRD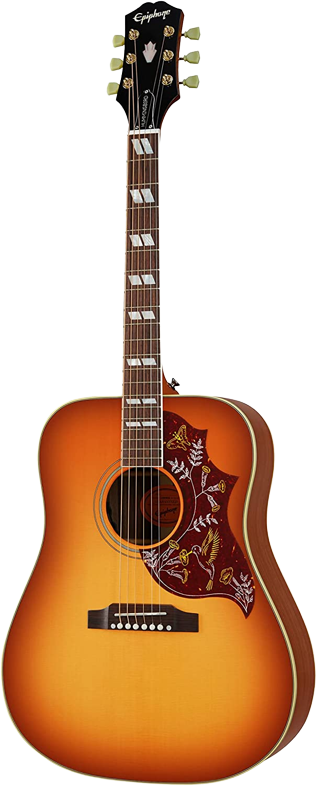 The long-acclaimed Hummingbird doesn't need much of an introduction. It's a guitar that's been a firm favorite of some of the biggest rock stars in history, including Bob Dylan, Tom Petty, Chris Cornell, Lenny Kravitz, Sheryl Crow, and Keith Richards. Backed by so many big names in the industry, it's definitely fair to say that the Hummingbird has made a big impression on the world of music. 
While Gibson's own Hummingbird will set you back, Epiphone's own version is much more affordable and rings the same beautiful tones and resonancy you would expect from the original. The dark grain of the mahogany neck, sides, and back screams that this is a premium guitar, and of course, it's bound in aged ivory. 
The Hummingbird's big, broad square body helps it project with a power that might knock you sideways at first. The rich, three-dimensional tones make it well balanced, and the deep low-end is an absolute dream for strummers. The single-note passages in the upper registers also complement those big rhythm tones beautifully.
Summary: While Gibson's own Hummingbird will set you back, Epiphone's own version is much more affordable and rings the same beautiful tones and resonancy you would expect from the original.
Why We Like it: From its all-solid mahogany construction and comfortable neck to its strikingly gorgeous, Gibson-inspired looks, this guitar is easily one of the best acoustics on the market, and amazingly, it's under $750.
For almost four decades, Taylor has been building excellent-sounding acoustic guitars, and the BT2 is no different. The Baby Taylor 2 is a unique model that makes a great travel companion thanks to its small body and big sound. The BT2's body is, in essence, a scaled-down version of the Grand Symphony model, also by Taylor. This means you get to enjoy the best of both an Auditorium/Symphony model and a Dreadnought-style guitar model. 
If you want the pickup installed, unfortunately, you'll need to splash out a bit extra. But the build quality and choice of wood certainly make up for any other lack. You can choose from a traditional all-mahogany design or opt for a mahogany body with a spruce/rosewood top— whichever you like more. 
Summary: The BT2's scale length of 23-1/2-inches allows you to form chords effortlessly, but the instrument still has plenty of snap and a stable tuning to give the player a rewarding experience.
Why We Like it: We adore how incredibly balanced and straight-up fun this guitar can be, so much so that we put it on par with a "modern" parlor acoustic. It's small enough to be transported anywhere while still retaining its fantastic Taylor-standard tone.

An electro-acoustic guitar that's suitable for both beginners and experienced players in all genres of music. 
It features a neck with a square profile made of mahogany wood, a metal resonator on the front of the guitar with a high threshold and a special nickel string, as well as a laminated maple wood body with a natural rustic wood finish.
Summary: An electro-acoustic guitar model dedicated to those who want a more special design, combining classic and modern elements.
Why We Like it: This is a great guitar for the price, and it sounds beautiful thanks to the quality of the electrical elements. The action is a bit tough at first, but once you get used to it, you'll thoroughly appreciate the rich, balanced tones it gives off. The build is also flawless.
For many, shopping for an acoustic or an electro-acoustic guitar is a deep and personal experience. There are so many individual factors that can influence whether a person likes or dislikes a particular model, which is why we put together this guide to give you a full breakdown of the most affordable and diverse guitars currently on the market. 
One thing you need to remember is that our shortlist of acoustic guitars is influenced by our own experience as well as the feedback/ratings of other users. There are undoubtedly plenty of other incredible acoustics on the market right now, which perform and play just as well for a similar price, but we can't list them all! Some of them do not ship outside of Europe, therefore, they aren't unavailable! However, you can be certain that every guitar we have included on this list hits on both price and performance and is a great option for players of all levels and genres—hopefully, this guide has helped! 
Good luck and happy strumming!