Naturally, the best VSTs are paid for. However, these days most DAWs have some great multi-purpose factory plugins that simulate the sound of real instruments and gear. Whether we're talking epic drum VSTs, virtual synth plugins – or if you're a guitarist – a ton of effects and presets you can layer to act as an intuitive FX pedal. 
Guitar sounds can sound twice as meaty just by applying a few of your DAW's built-in effects, however , if you use these sounds in your productions and tracks regularly, you'll probably reach a point soon where the standard effects just won't cut it.
If you want to be able to achieve cleaner tones, a more authentic analogue sound, or simply layer some more fuzz and crunch through your signal chain into the final mixdown – there are some really decent free guitar plugins which can help you do exactly that. Here are the top ones we've tried out this year so far.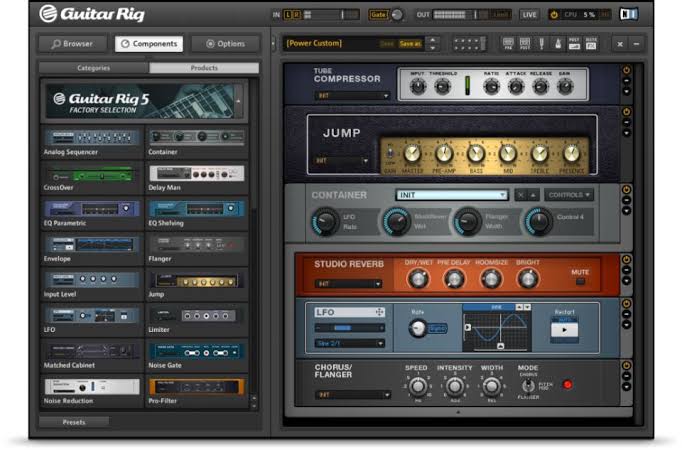 This is the free version of the popular Guitar Rig 5, which is a highly-versatile processing VST used by top producers and musicians in the industry. The free one still comes with a comprehensive amount of exciting effects and modulators, 50 unique presets, a single emulation amp, tuner, metronome, plus multiple cabinets to fit various styles and genres. Compatible with Mac and PC and works as an easy drag-n-drop interface.
For classic rock and indie lovers, Ace Vintage Tube is without a doubt the best all-tube tweed amp on the free VST market. The plugin emulates the sound of a genuine 1950s Fender, with 2 different circuit models for adjusting grid stoppers and the amount of feedback produced from the amp. It also switchable on/off built-in cabinets and various controls for conserving CPU; making it ideal for use in live environments.
Amplion from Audified is the free version of AmplionPro and packs a nice selection of features that are great for ramping up your live performances, practice sessions and adding warmer tones to your compositions. This plugin sports a 5-channel valve amp, 2 cabinets with microphone position adjustments, as well as an advanced recorder and audio player. Works as VST/AAX/AU models and as a standalone plugin. 
This is one of our favorite free plugins to use with electric guitars because you get a huge bunch of cool and unique pedal effects to play with. The best-sounding ones are the compressor, delay, crunch, clean, synth and overdrive, all of which can be EQed and modulated to your liking. There is also a MIDI assignable volume control and the possibility of alternating between speaker cabs and the EQ for a fuller, richer sound.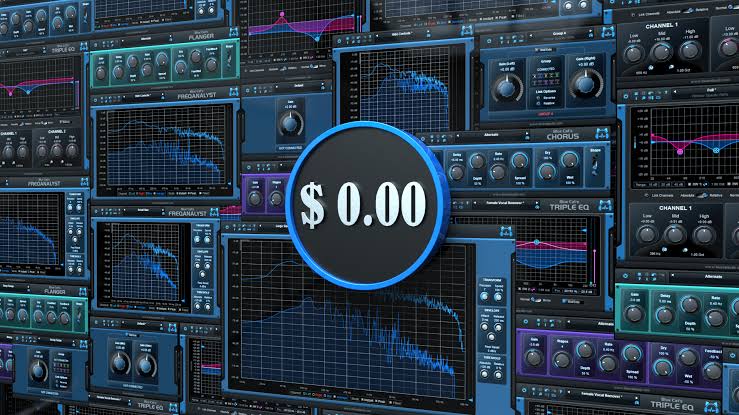 Equipped with 3 amp models to accommodate a selection of guitar tones, the Blue Cat Free Amp is modeled on their highly-acclaimed 'Axiom' plugin, and features classic drive, modern drive and classic clean presets. There is a 2-channel equalizer along with a MIDI-operated gain board, modulation effects such as Chorus, Phaser, Flanger, FreqAnalyst and a built-in spectrum analyzer to get your sound exactly where you want it. 
Ample Guitar M Lite II is a plugin which emulates the wonderful-sounding Martin D-41, making it a fantastic tool for anyone looking to make acoustic-based music over harder genres. Inside the VST you'll discover a tab player which supports looping, chords, fingering, strumming and more.  There are also tons of interesting effects like Slide, Trill Bend, Tremolo Bar, Ghost Note, Popping, Fade In and more. Considering it's free, it's one of the largest and most comprehensive plugins out there. 
If you've been looking for a VST to jack up your leads and give more clarity to your low-end, the TSE 808 is a wicked free amp simulator which puts a lot of the paid ones to shame. The TSE 808 is a tube screamer inspired by the Ibanez Tube Screamer; delivering an exceptional sound quality and some super cool built-in effects. There is also the option to oversample in 2X/4x to remove aliasing, phase distortion and improve resolution. 
Emissary from Ignite Amps is a seriously mean plugin bundle based on a unique 2-channel tube amplifier.  It's great for metal musicians especially, as the VST features a ground-shaking lead channel for distortion and another channel for crisp and cleaner tones. Both channels come with their own fully-automated controls, along with custom power tubes, mono and stereo processing, plus an epic Ignite Amps preset database.
This is another analogue tube bass plugin with switchable built-in cabinet emulation designed to give you full control. It's also incredibly simple to use, and sports a Drive feature for the input section of the preamp, Both treble and mid controllers, mid selection knob, and a master output. You can also apply your own personal cabinet if you don't want to use the built-in one. It still sounds pretty good all the same. 
Audified's free version of the GK Amplification 2 Pro plugin is based on the Gallien Krueger MB150 amp, and features a nice package of presets worthy of any bassist or guitarist's VST collection. The design is simple and works as a standalone application as well as an AAZ/AU/VS plugin. There are gain controls and angle positioning for mics, EQ booster controls, and a limiter to prevent clipping. 
Final Note
There are always a broad selection of awesome free plugins anywhere you look on the internet these days, while not all of them will sound 100% authentic like a guitar, many of them work as great multi-effects processors to play around with on other elements of your tracks. Of course, if you want a wider range of features and controls to play with, it's probably worth just investing in the paid version of the one you like most. We're sure you'll be strumming red hot riffs once you do!