There is a lot of different audio gear used to record or process sound these days. The problem is, not all of them will meet your system requirements or expectations when it comes to your setup. To save yourself the time and confusion when purchasing this kind of gear, let us talk through the basic differences between audio interfaces, soundcards and mixers. That way you'll have a much better understanding of whether or not it's worth the investment and whether any of them are suitable for your recording and composition needs.
Audio Interface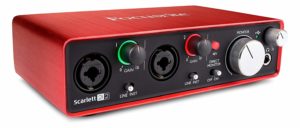 Audio interfaces are hooked up to your computer via USB, FireWire and in some cases a PCI or PCMIA. Audio interfaces are devices with built-in microphone preamps. They're great if you want to connect 2 microphones and level out the sound. However, if you are looking to connect a microphone and a guitar at the same time, you would need an interface with both an input and an output.
Audio interfaces are a simple and inexpensive way to record sound from more than one source, without compromising quality. That's why for anyone looking to produce electronic music on their computer or record high quality DJ sets – an audio interface is a real must-have.
We recommend: the award-winning Scarlett 2i2 (2nd Gen) from Focusrite.
This is one of the most popular and very reasonably-priced audio interfaces on the market right now and has been for a number of years. It comes with built-in preamps, XLR/jack combination inputs for instruments like synths, pianos, guitars and a port for a microphone. There are 2 large dials for controlling the volume for monitors, as well as 2 sound indicators to ensure optimal precision when recording. The Scarlett 2i2 works with Windows and Mac; and includes a massive bundle of software and plugins, including Ableton Lite, Pro Tools, Maximal 2, Pivot and more.
Mixer
Mixers are most commonly used for recording sound and adjusting the volumes so everything is balanced in the final track. They usually come with their own preamps alongside multiple inputs and outputs for hooking up instruments, microphones, decks and other gear simultaneously.
Many tabletop mixers also have a built-in interface which allows you to add equalizers, faders, and live effects to these sounds such as filters, reverb, delay, loops, etc. A mixer is pretty much essential for DJs, bands and live acts because it feeds the signal from multiple inputs into one single channel for recording; however, it also allows you to manipulate each individual track in a DAW or sequencer to touch up afterwards i.e. EQing, mixing and mastering.
There are some basic but inexpensive USB mixers on the market right now, one of them being the Yamaha MG10XU 10-input Stereo Mixer. It comes complete with SPX effects, 3 band EQ, high pass filters and a compression knob to reduce unwanted noise and keep your sounds punchy and clean. It's a highly popular choice among producers who aren't looking to get too carried away with loads of instruments and channels.
But, if you're looking for something with more functions, better quality preamps, more inputs and a seriously epic, award-winning FX rack – we would highly recommend the Behringer X Air18. It homes 18 inputs for live applications and instruments, built-in Tri-Mode WiFi router (eliminating the need for any external routers) and comes with a 3-year warranty. Also included are XLR cables, a stereo breakout cable and Austin Bazaar polish cloth.
Soundcard
Soundcards are sometimes referred to as audio interfaces. This is because they are practically the same thing only in a slightly different format. Most computers have either a built-in soundcard or soundboard in the form of a 35mm jack, while others have a combi jack or line-in input which allows for playback through monitors and headphones.
Some older computers have very limited, or really botched ports which make internal recording a genuine struggle. If this is the case for you, you should probably consider investing in an external soundcard. Luckily these really aren't expensive and most of them are multi-function, meaning you can connect a headset or mic if you're a gamer.
We suggest: the Tendak External Soundcard 3-port USB hub as a viable and cheap solution. It's compatible with PCs, Macs, Laptops, tablets, ultrabooks and other hand-held devices. It even comes with an EQ button, plus audio adapter; making a great all-in-one package.
Even though a soundcard will affect what you hear through your monitors, it won't affect the final output or quality of the sound that is rendered; therefore, if you're producing through a DAW and not looking to record live instruments, MIDI devices or vocals – your computer's soundcard will do just fine. Providing it works and has the right ports available of course!
Now, the big question…
Which is Better?
There's no right or wrong product out the above because each one practically does the same thing, just to a different degree. This is why it very much depends on what you plan to use it for!
If you're looking to make basic beats using music production software only, your computer's soundcard will easily get the job done – it just won't sound great if you're playing back through crappy monitors; if you want to make quality music which incorporates the use of live gear, instruments and microphones, you'll want to look at an audio interface, mixer or one which acts as both.
It's as simple as that!