More and more DJs are stepping away from traditional mixing and adopting the digital approach these days. And there's some fantastic software applications and DJ controllers which allow you to mix in a way that still feels like the real deal.
In this article, we're going to talk about the best mixing software for DJs which is affordable, reliable, and packed with lots of cool features you can use to liven up your sets.
What is DJ Software?
This doesn't take a genius to figure this one out, but if you're completely new to the world of digital DJing – let's first discuss what the software is. And more importantly, what it enables you to do!
There are various computer programs out there which have been built to simulate the functions of a standalone mixer, turntables and a collection of effects all in one place. DJs are able to use these programs to blend tunes, scratch and create loops, etc. Instead of having to invest in this gear individually.
Most software is still connected to some sort of mixing console. However, unlike industry-standard CDJs or turntables which are big, heavy and sometimes a pain in the ass to set up – you can achieve exactly the same results with a basic DJ controller and software. This is why more and more people are choosing to mix this way because it's more convenient, and less expensive than traditional mixing equipment.   
How to Choose
If you're planning to go down the digital DJ route, there's some good free programs out there to get you started. MixVibes, Zulu and YOU.DJ are great, and we'll cover more of these free options in another article.
If you're looking to play out often and are more serious about your investment, our recommendations for paid programs below will give you a broader scope possibilities.
When it comes to general music gear, Native Instruments are definitely up there with one of the best. As they have been for decades. They make some of the best VSTs, analogue synths, and controllers on the market, but they're also the creators of the popular mixing software Traktor Pro.
Suitable for both beginners and veterans alike, the program allows you to mix up to 4 tracks at once, with each deck containing color-coded waveforms. It also features more than 30 custom built-in effects and beat grids for more precise mixing. You'll have the ability to perform loops, cut and edit tracks and samples in a live setting. You can also navigate through your tunes quickly and easily according to BPM, key, energy and other attributes.
One thing that has put people off this software in the past is the fact that it's only compatible with N.I products. This means any external or outboard gear you have already is unlikely to work, and you'll probably need to invest in one of their controllers. Anything from the Kontrol range should suffice no problem, and you can pick them up for a highly affordable price these days too. If you've got the budget for it, we also recommend the Traktor Scratch Pro 2 software for those looking to expand more than just their mixing skills.
Possibly Traktor's biggest adversary is Serato. It's a program which includes both CDJ and vinyl modes for those who prefer more classic mixing styles. It also comes with several FX, loops and cue functions to play around with. The simplistic interface and minimal design makes it super easy to manage all your tracks and locate them easily.
Again, Serato allows you to mix using up to 4 decks at once, with BPM readouts and an "elapsed time remaining" indicator for each track. Color-coded waveforms allow you to monitor the progress of the songs and make smooth transitions using the numerous built-in features. Like Traktor, this program works with a controller. Only Serato is universally compatible with many different controllers. Some include Numark's Mixtrack Pro, the Akai AMX, Denon DJ MC6000MK2 and Pioneer's DDJ-SX3 among others.
Bare in mind that if you go for a specific Serato controller, it's probably going to work a lot more coherently than a third party brand. Also note that the vinyl scratching emulation software for Serato is sold separately. However, it's pretty inexpensive and worth buying if you want to master the art of scratching using any sound file or mp3 from your computer.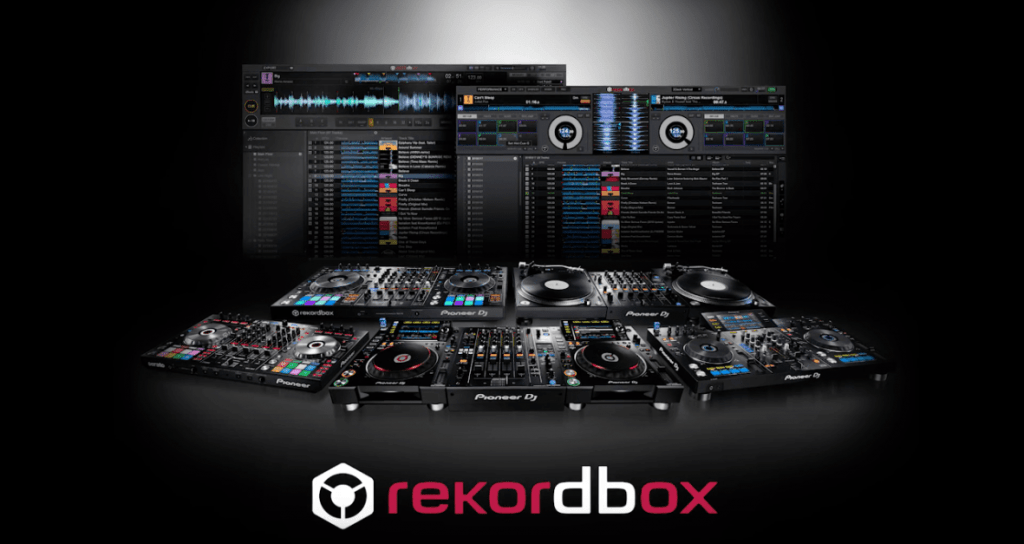 Though Traktor and Serato are probably the top pioneers behind DJ software, Pioneer themselves are without a doubt one of the best manufacturers of DJ equipment. Especially in line with brands like Technics and Numark. The best application they've come up with to date is Rekordbox. This is a fantastic software used by DJs and producers all over the world as an ideal mixing and management tool.
Not only does it store all your cue points and track preferences to your computer's database, it even remembers this information when you're playing on industry-level equipment via USB. In addition, you can create multiple playlists, analyze, edit and mix your tracks, set key information, add FX, and use other features which make selecting your playlists simple and effortless.
The software is only compatible with Pioneer DJ controllers or products within their CDJ range. You can opt for a 30 day trial if you want to check out the platform before upgrading to the full version.
We talked about the prestigious Ableton Live in our last blog about best music making software for producers. But, because Live is such a fluid and versatile software with tons of awesome mixing capabilities, we just had to include in this review as well.
From a producer's standpoint, it's truly endless as to what you can do for composition and mastering. And for a DJ, the program also has a good amount to offer. The interface allows you to create remixes using loops and various samples, but more importantly, you can perform flawless live sets thanks to the "warp" feature.
In production terms, this functions by warping an existing track so it falls exactly on the beat of Ableton's built-in metronome. This means when you're playing 2 tracks together, they'll be perfectly synced and they can then be exported to use for mixing on CDJs or digital turntables. We're yet to come across a DAW that accommodates DJs and producers to the same degree as Live. It's a work of genuine craftsmanship in our eyes!  
VirtualDJ is another software application that's considered one of the best picks by DJs across the board. Not only is it compatible with both PC and Mac, it also works with most third party controllers, MIDI devices and USBs. It's also highly affordable, and packed full of features to keep you and your audience entertained for hours.
You can play 2 or more tracks simultaneously and add a range of cool FX including a beat slicer, flanger, echo, filter and more. The software goes above and beyond the basics by incorporating the ability to scratch and sample tracks. Plus, you can add up to 99 different vocals! You'll also be able to add cue points, set the BPM of each track, and refer to the color-coded waveform tables for anyone still getting to grips with mixing.
There's a plethora of great online tutorials on how to use the software, and there's even a free version for anyone who may not want it for commercial use. If you're looking to use it with a controller however, you'll need to pay for the full version. For what you get, and how user-friendly the software is, we think it's worth every cent! It's perfect for both beginners and seasoned DJs and can be purchased on a monthly or yearly subscription.
Conclusion
You'll discover all of the mixing applications we've listed above are compatible with Mac and PC and are nice and easy to install. Each one is relatively inexpensive, and gives you all the tools you would ever need to organise your playlists and perform a killer DJ set.
Unfortunately, there is a downside to DJing through your computer or laptop…
If there is a crash or your comp just decides to shutdown halfway through a set, it's going to be tough to recover. Not to mention a bit embarrassing! There's no real solution to stop this from happening, so we can only advise to make sure you have a backup comp, USBs or another device at hand which you can quickly plug in while you sort the other issues out.
Other than that, DJ software is a great way to get used to the art of blending tracks without forking out for a fully-fledged set up. Just make sure your computer is powerful enough to handle the software (check out our review of the best laptops for production and DJing), and choose an application which is high-quality. That way there will be less risk of anything going wrong when you're trying to record your sets or perform live.